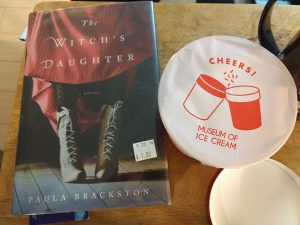 The Witch's Daughter by Paula Brackston recounts the many lives of Bess Hawksmith, from her childhood, living in small town in the 1600s England before she possessed magic, to the Victorian age as a pioneer female surgeon, Eliza, her extraordinary healing powers as a nurse during WW1 and finally – the Bess that has adapted to today's world as Elizabeth, a loner. Her final identity of Elizabeth is decisive. No longer will she continue to hide, she's finally ready to face off with Gideon after more than 300 years.
Bess has been hiding out from her estranged mentor in magic, the Warlock Gideon Masters, for years, but is always found by him despite her constant relocating and new identities. Gideon is obsessed with possessing Bess, claiming her life belongs to him, and always creepily accompanied by his menacing theme music of "Greensleeves." (Think of it like the Emperor's March that accompanies Darth Vader – there's always a scene where Bess hears Greensleeves before Gideon appears). Each time Bess gets close to finding friendship and love, she is torn apart from those she loves by Gideon's powers.
Bess is busy gathering supplies and plating her garden, trying her best to be polite enough to not seem like a mysterious stranger in her new town, but staying low enough to not attract unwanted attention, when she encounters Tegan, a teenage girl new to town as well. Tegan is out of place with the rest of the children, feeling abandoned by her mom, who works nights, and with no other family to depend on. Apprehensive at first, Bess decides its finally time to have an apprentice and companion. Before she will teach Tegan any spells, she gives her own tale as a warning of what they're up against. Cue the Greensleeves…
This was a wonderfully entertaining book. I fell in love with each identity of Bess and was devastated by each transition. That blasted Gideon! Bess's sorrow and endeavors were so strongly conveyed, I felt connected to her and her story, always hoping for the best. When I closed the book, I had such a book hangover. I couldn't get over Bess's story and I felt like finishing the book was like ending my relationship with a close friend. The distress was real. Logging my reading as complete on Goodreads provided such relief – the book was listed as "The Witch's Daughter #1." Number one? That means there's more! I felt such joy knowing that this story continues.
Cost: $1 at a book sale
Drink of Choice: Chai tea latte (and maybe some cherry ice cream)