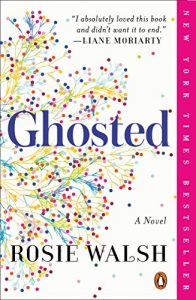 Being ghosted is the ultimate silent treatment. It's strange when it happens to us, whether we're on the receiving end of being ghosted by friends or love interests. It leaves a feeling of confusion and loss, and even embarrassment. The questions loom overhead: What did I say? Why don't they want to respond to me? Did they get my message? Surely, they can't just be ignoring me. It's a struggle to understand why this has happened. Ghosted: A novel by Rosie Walsh explores that topic in her intriguing and beautifully written novel.
Sarah Mackey has just met the love of her life. In her 40s, and on the verge of a divorce, Sarah meets Eddie David, in the one place she never thought to find love: her hometown in England. Sarah and Eddie spend six wonderful days together. But, alas, it cannot last, because Sarah's work and Eddie's planned vacation are pulling them in two different directions. They make plans to meet each other's families and promises to find a way to live together, even though Sarah is just visiting from Los Angeles. When Sarah returns from her work event, eager for Eddie's flight information so she can pick him up, she's surprised that he hasn't responded. It's unexpected. Didn't they just promise to spend the rest of their lives together?
Sarah doesn't hear from Eddie again: no response to texts or calls or even calls on his work phone. The line still rings, so it's not like he's changed his number. There are no updates on Facebook either, Eddie hasn't been visible online in weeks. What happened? Convinced that their week together was special, Sarah refuses to believe Eddie would have ghosted her. Something must have happened, something serious. He must be in trouble, or hurt, or – dead? Her friends try to keep Sarah calm and reassure her that Eddie is probably not hurt, but Sarah is so overwhelmed with grief that she feels like she is in mourning. Sarah won't stop trying to contact Eddie until she finds out what happened to him.
Sarah herself is a very complex character, carrying her pain and simultaneously trying to maintain her leadership in a charity she runs alongside her soon-to-be ex-husband. She is a transplant from England, now living in L.A. We are introduced to her work life, colleagues, and friends and then again to her British friends and family, and the contrasts in each group. The author perfectly captured the L.A./beach-life scene and at the same time, I could easily imagine laying under the stars in a small town in England as well. The love story between Sarah and Eddie is beautiful. The conversations they had made me smile and laugh. As each day of their short one-week lived relationship was revealed, I started to believe Sarah's claims. She and Eddie were ready to take a next step and there was no way Eddie would just abandon her.
I finished this book in about two days. Half of myself was mad with wanting to know what happened and the other half wanted redemption and closure for Sarah. With all the information available to us, surely, there would be some way to track down his whereabouts? One thing I found confusing was that Sarah didn't go back to his house to look for him. She had spent a week there, surely he would be home and she would get her answer? Was that too much to wish? Maybe it's just me. Maybe it's all those cozy mysteries I read with nosy amateur sleuths, but I feel like that would have been my first move if I thought something serious happened. Ghosted is a romantic mystery, different from the usual mysteries I read and I loved it. I highly recommend this book.
Cost: $0.00 on Overdrive
Drink of Choice: Pumpkin Spice Chai Tea Latte