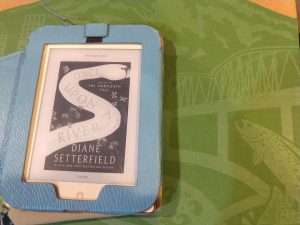 Of all the great books I've read this year, this one was my favorite. It is a story of hope that resonated deep within me as I struggled to cope with some painful, personal issues. Once Upon A River by Diane Setterfield lets the patrons of The Swan do the story telling as they resolve to explain and analyze exactly just what happened one Winter solstice night.
At the center of the story are two main characters: the first is a mysterious child of four who was pronounced dead, but now lives and no one can decide who she belongs to, and the second is the River Thames, which is set as the background for this incredible story set in Victorian times. At first glance, this may seem like a fairy or folk tale, but the fantasy is just a way to ease the reader in the deeper truths and hopes we all feel as humans on this earth, whether it's in 1800s Britain or any other time and place. The occurrences of the solstice and equinox influence the series of events that follow.
The lingering mystery throughout the book is, is the little girl Alice, Amelia, or Ann? Three families will each make a claim that the little girls belongs to them, although no one can be certain. There is Mr. an Mrs. Vaughan, the grieving couple, whose daughter was kidnapped two years earlier, Mrs. White, a widow with a mysterious past, and Mr. Armstrong, half-convinced that the child may be a relation of his.
Once Upon A River draws you in with characters that are likable, others that are not, and all with complex and incredible back stories. On the surface, these characters seem straightforward and stationary, but as the story progress, the heartache and experiences revealed provides a deeper understanding to how each characters acts and reacts to the changing and mysterious situation surrounding the girl who was dead, but now lives again. There is Rita, the nurse; Henry Daunt, the photographer;  Mr. Armstrong and his amazing gift of knowing how to talk to people, several pigs that just know how to figuratively "speak to you" and cast of patrons and employees of the Swan, including the owners, Margot and Joe.
The ending will delight, and possibly, surprise you. I highly recommend this book and cannot express enough the strength of storytelling.
Cost: $0.00 on Overdrive
Drink of Choice: Lemon and Ginger tea