It's 7:44 p.m. and people are crowding into the cafe. I try to identify what brings them here and where they are going later by their clothes, shoes, and accessories. Tonight is a night for people watching and for chatting with friends, a night when people actually talk to each other rather than stare into their phones.
Here at the Coffee Klatch, the atmosphere inside is cozy: squishy chairs and a couch, local art on the walls, and the earthy smell of coffee. A group of us meet to relax, sketch, and drink…lattes. This is Sketch Night.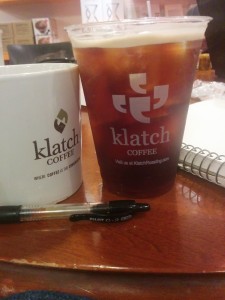 The Klatch is a great place to find subjects to draw. A guy struts in wearing a t-shirt with wide words across the front:  "I met God, she's black." Next, a girl with oversized glasses and a bird-patterned dress walks in an orders a coffee. She sits down to read. A group of people in stretchy workout clothes break the silence with loud talking. Are they coming from the gym or heading there next?
I am not very good at sketching. While my friends carefully sketch patrons in their notebooks, I sit at my laptop and listen to all the conversation.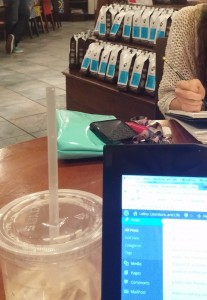 Tonight's drink of choice is the Bee's Knees latte: a latte with honey and a sliver of orange peel at the bottom. It's light, but bitter, with a creamy color with a sweet finish. To pair with the latte, I've ordered a lemon blueberry bar. Every Sketch Night, I like to try something new. Last time I had a Creme Brulee latte with a side of carrot cake topped with some delicious chopped almonds. Amazing.
One particularly tasty treat at the Klatch is the Almond Pear Bar. I think I devoured this whole dessert before even taking a sip of my latte. The pears just melted in my mouth. It is a recipe that I would like to try recreating at home.
My favorite food at the Klatch is the Catalina sandwich. The sandwich is like a hybrid of a club sandwich and a side green salad: turkey, lettuce, tomato, sprouts, red onion and their own homemade Catalina dressing. It is delicious!
Sketch Night is one of the most enjoyable events of my month. Together, my friends and I laugh, exchange crazy work stories, and pick out names for our friends' future kids. I'm not the only bibliophile in the group, either. Often our conversations turn to our latest reading lists. A friend had just started The Graveyard Book the same time I did and we discussed the wonderful work of Neil Gaiman in books and movies the whole night.
Drink of Choice: Bee's Knees Latte